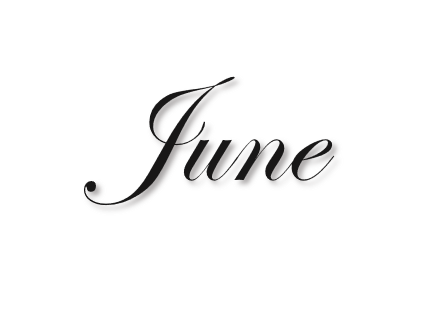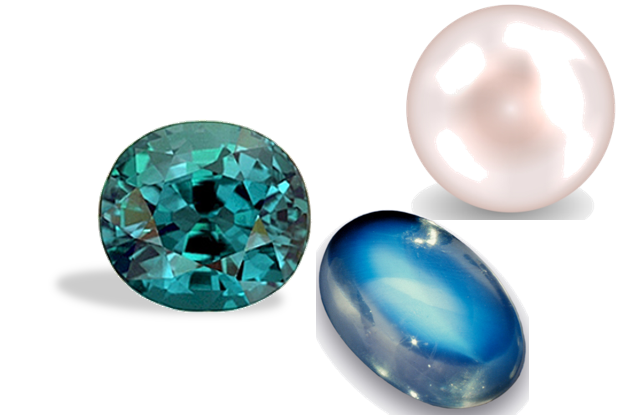 Alexandrite, Pearl, and Moonstone
Alexandrite
Known in Russia as the"gem of the fsars," alexandrite is truly a miraculous gemstone. Often described as an "emerald by day" and "ruby by night," when viewed under sunlight, alexandrite shows a teal to forest green. When seen by candlelight, though, it appears violet, crimson red, raspberry, purple, or orange.
Just the facts
In gemology, any chrysoberyl that changes color can be called alexandrite. The nomenclarture is not dependent on the colors of the change. However, alexandrite's color change is dependent on pure light sources to be viewed correctly.
 Alexandrites Include:
Faceted, Cat's-Eye 
| | |
| --- | --- |
| Alexandrite | June's Birthstone |
| Major Sources | Brazil, India, Madagascar, Russia, Sri Lanka, & Tanzania |
| Colors Found |  Teal, Blue-Green to Forest Green changing to Violet, Crimson Red, Raspberry, Purple and Orange |
| Family | Chrysoberyl: BeAl2O4 |
| Hardness | 8.5 |
| Refractive Index | 1.74 - 1.76; Biaxial (+ or -) |
| Specific Gravity | 3.70 - 3.78 |
| Crystal System | Orthorhombic |
Pearl
Pearls are some of the oldest known gems and, for centuries, were considered the most valuable-so valuable, in fact, that the Roman General Vitellius allegedly financed an entire military campaign with just one of his mother's pearl earrings.
Just the Facts
The pearl begins life as a foreign body (generally a parasite), which makes its way into the shell of marine or freshwater mollusk-usually oysters or clams. The mollusk's defense mechanism is to coat the intruder with layers of slightly iridescent substance, "nacre," which is the attractive outside of the pearl.
Pearls Include:
Freshwater, Tahitian, South Seas
| | |
| --- | --- |
| Pearl | June's Birthstone |
| Major Sources | Australia, Burma, China, Indonesia, Japan, Philippines, Tahiti & Vietnam |
| Colors Found | Black, Cream, Gold, Golden Yellow, Gray, Orange, Pink, Silver & White |
| Family | Organic |
| Hardness | 2.5 - 4.5 |
| Refractive Index | 1.52 - 1.66 |
| Specific Gravity | 2.60 - 2.85 |
| Crystal System | N/A |
Moonstone
Popular with the Romans, who thought it was formed out of moonlight, and in India, where it is considered a sacred zodiac gem, moonstone is one of the most coveted varieties of feldspar. Other names include adularia (a variety found in the European Alps near the Adula Group) and  selenite (from the Greek selene, meaning "moon."
Just the facts
Moonstone is a potassium-rich arthociase member of the feldspar group of minerals and is closely related to sunstone and labradorite. The name feldspar comes from the German feldt spat, meaning "field stone."This is because when feldspar weathers, it releases large amounts of plant nutrients like potassium, which enrich the soil.itrine occurs naturally in proximity to amethyst and is a related quartz mineral. Its color is due to small amounts (approximately 40 parts per million) of iron in the crystal structure of quartz.  
 Moonstones Include:
Gray, White, Orange, Rainbow 
| | |
| --- | --- |
| Moonstone | June's Birthstone |
| Major Sources | Brazil, Burna, India, Madagascar, Sri Lanka, & Tanzania |
| Colors Found |  Colorless to Brown, Green, Gray, Pink, Rainbow & Yellow |
| Family | Feldspar |
| Hardness | 6 - 6.5 |
| Refractive Index | 1.51 - 1.53 |
| Specific Gravity | 2.56 - 2.59 |
| Crystal System | N/A |